Perth to Broome via Karijini Ovelander (combines with Red Earth Safari)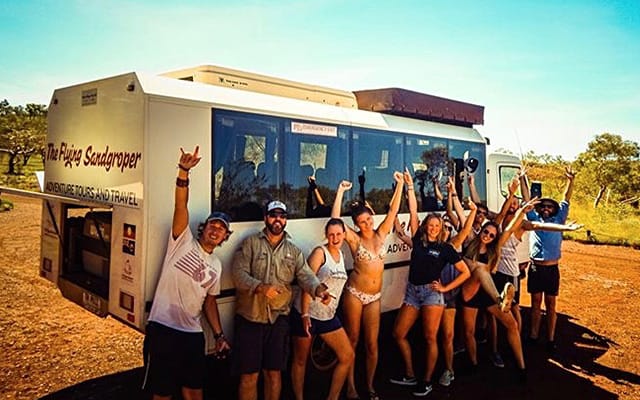 Duration: 10 Days (approx.)
Location: Tom Price, WA
Product code: DTTWS
Monday
DAY 1 (L, D)
Pickups start at 7.30am at the YHA on Wellington Street. We then drive up the beautiful Sunset Tourist Drive picking up from Scarborough Beach and Hillary's on the way. Our first stop is at Yanchep National Park for a close encounter with some koalas.
Next we head to Lancelin for some sandboarding. After lunch we travel further up the highway to Cervantes where there is time to chill out or walk down to the ocean for a swim and maybe see some of the local Sea Lions swimming close to shore. Then it's off to Nambung National Park to see the world famous Pinnacles at Sunset, one of the best times to see them. Overnight in Cervantes (Dorms).
Tuesday
DAY 2 (B, L, D)
Travelling north up the coast, we pass through historical Greenough and the Wildlife Park, stopping to see the unique horizontal trees before arriving at the Hutt River Province, a small breakaway country and the second largest on this continent. Meet a prince and hear about his passion for his own country. Don't forget to bring your passport! The Kalbarri coast will take your breath away with its beauty, migrating whales may be seen from the cliff tops in season, enjoy a little free time in Kalbarri before a mouth- watering Aussie BBQ. Overnight in Kalbarri (Dorms).
Wednesday
DAY 3 (B, L, D)
We travel deep into Kalbarri National Park to the awesome Z-Bend gorge for some optional abseiling and a hike down into this 400 million year old landscape, in season we can enjoy a swim in a secluded pool, then on to Nature's Window. After lunch we enter the Midwest Outback, land of few people and huge sheep stations. We drop into the strange Hamelin Pool stromatolites, some of the oldest organisms on Earth and believed to be among the first producers of oxygen, before entering the World Heritage area of Shark Bay and the unique Shell Beach. Tonight we stay at the most western town in Australia overlooking the beautiful Shark Bay (Dorms. No ensuite for upgrades).
Thursday
DAY 4 (B, L, D)
We arrive at Monkey Mia in time to meet the world famous Bottlenose Dolphins, enjoy a real close encounter and some free time. Continuing north, we head to Eagle Bluff. From our cliff top spot we may see below us lots of wildlife including sharks. Travelling ever northwards you can see why the locals call this area Big Sky Country, also home to the second longest straight road in Australia. Tonight we have exclusive use of an Outback Sheep Station shearers quarters; really rustic and great fun - take a ride in the back of a ute to a private beach for sunset, toast marshmallows on the camp fire, sit and soak up the ambience of the Outback, test your astronomy skills at our million-star accommodation, and if you like, you can take your bed outside and fall asleep to the sight of the milky-way and the sounds of the Outback. Sheep Station shearers quarters, twin share (no upgrade available).
Friday
DAY 5 (B, D)
We stop on the Tropic of Capricorn before we arrive at Coral Bay. Here the beautiful Ningaloo Reef is just meters from the white sandy beach. Today is full of optional activities; you can sit on the beach and swim, hire snorkel and fins to explore the reef yourself, take a glass bottom boat for a guided tour of what the reef has to offer, or join the Eco day tour to swim with the Coral Bay manta rays (includes lunch).
Late this afternoon we make our way up onto the Northwest Cape and into Exmouth. Overnight Potshot Resort (Dorms). We have use of all Resort facilities which include 2 swimming pools, bars and restaurants.
Saturday
DAY 6 (B, L)
Today is yours to do as you want. There are day cruises with the whalesharks (in season, optional), dive charters to the outer reef (optional), or you can come on our FREE explorer tour out to Cape Range and Turquoise Bay. Hire snorkelling equipment(optional) and splash straight into the amazing underwater garden of the Ningaloo Reef either in the Bay or on the Drift. Hopefully we'll spot turtles, octopus and reef sharks as well as a myriad of multi-coloured fish and, of course, the beautiful coral formations that make up the reef. We take a drive up to Vlamingh Head lighthouse for spectacular views over the tip of the peninsular before heading back to town. The 6-day one-way tour finishes this afternoon. Guests accommodated at Potshot Hotel for 2 nights. Guests Self Cater this evening.
Sunday
DAY 7
Free day to explore Exmouth. Take time out to relax or engage the many amazing options in Exmouth and the North West Cape Range (Ningaloo). On this day you could:
- Go Whale Sharking / March to July
- Scuba Diving
- Explore Exmouth Town
- Swimming at Public Pool
- Spend some time learning the new Ningaloo Visitor Centre, Exmouth
Monday
DAY 8 (L & D)
Guests depart from Ningaloo Visitor Centre 0800 hrs or Exmouth Accommodation with the Flying Sandgroper AT & T - We make our way east & enjoy morning tea a Bullara Station Stay
towards Karijini - We make it all the way to Cheela Plains stations Stay and spend the night under the stars & enjoy a lovely meal prepared by Guide - Heads down ready for Karijini.
Tuesday
DAY 9 (B, L, D)
Early up for breakfast, Today we head to amazing West Karijini. This is a very active and rewarding day of exploring. The day features and not limited to Hancock Gorge, Spider Walk and Kermits Pool. We also visit Junction and Oxer Lookouts followed by a prepared lunch. Afternoon spent exploring a real gem, Knox Gorge. If you enjoy a swim and natural beauty you are in for a special day. Return to camp for BBQ dinner & socialising.
Wednesday
DAY 10 (B, L)
Up early for breakfast. This day we head to East Karijini and indulge ourselves at Dales Gorge, swimming and relaxing by Fern Pool & Fortescue Falls. Will take our lunch in the Gorge to make the most of this special day. Afterwards we will visit Karijini Visitors Centre & learn more about this ancient place and it's peoples.
We will then depart Juna Downs Stop where Broome-bound guests will rendezvous with our mates at Integrity Coach Lines for a 1600 hrs departure for Broome Via South Hedland
Thursday
DAY 11 (no meals provided on this service / is Broome transfer only)
0630 hrs Broome-bound guests arrive at Broome Visitor Centre with Integrity Coach Lines Time for some Broome time. Touring concludes.